Aggie
Aggie is a performance pup just waiting to happen and we can't wait to see this little gal find her forever home.
Aggie's momma, Jelly Bean, was confiscated by the local animal shelter and brought to Westview Animal Clinic where a CDT Volunteer works. She had been living in someones backyard, with her sire and two sons from her previous litter. On March 25, 2014, a few days after her arrival, eight beautiful babies were whelped. "Bean" has been nothing short of a wonderful momma. Everyone was fed well and kept clean from day one.
The pups have been raised, doted on, and taken care of by the crew at Westview, and sponsored by Westview. Casa del Toro Pit Bull Rescue came to the aid and agreed to help home these babes, as well as have them spayed and neutered.
All 8 of the puppies have had the best of starts to life including early neuro-stimulation, exposed to different surfaces, crate training, water play, noises, stairs, beginning potty training, interactive toys, car rides, children... the list goes on and on! Swoon and Apple have been the BEST babysitters, and their uncle Link has been a very good, calming influence on them, too.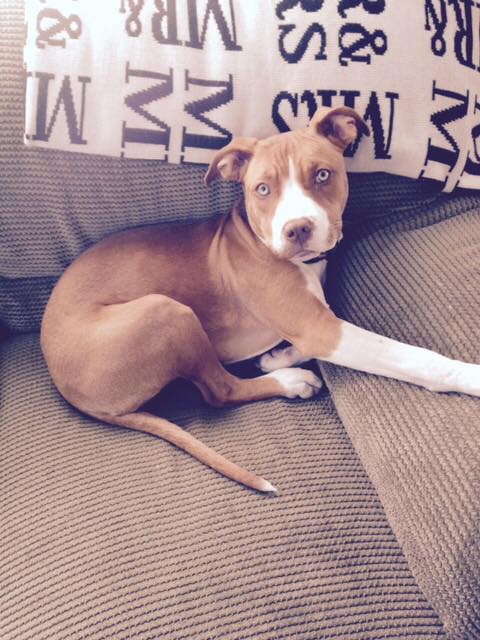 Aggie's growing up
We love getting update photos of our Alumni. Check out Aggie! She is one of Jelly Bean's pups.