Buck
It is with a heavy heart that we report Buck passed away from spleen cancer this morning, April 21st, 2016. Buck loved giving hugs and rolling in the grass. He enjoyed the little things in life and was surrounded by those that loved him in the end. Buck's foster family decided he fit in perfectly and they were keeping him. We couldn't be happier!
Name: Buck
Gender: Male
Estimated date of birth: 8 yrs young
Size: 50 lbs
Color: Brown Brindle
Boasting his best bully profile is beautiful, brindled Buck, more formally known as Mr. Eddie Buckle. And then, there are his eyes. Those clear-as-glass amber eyes -- so warm, so soft, and so gentle. As one of the newest members of the Casa del Toro family, brave and bouncy Buck has progressed from frightened stray to favored sweetheart in his loving foster home. Tender yet playful, he's a great fan of flipping onto his back for belly rubs or simply because it's fun to do, dipping his toes in the doggy pool, and palling around with his furry foster sibs. Due to previous neglect, many of Buck's teeth are worn down to the gum line, causing his tongue to hang out (from tip to total) and requiring a soft food-only diet. But somehow, that traveling tongue only adds to his already impish appeal. Buck successfully completed a heart worm treatment this summer, handling it in true bully fashion, bucking up and recovering well. This happy, housetrained honey will be on the hunt for his much deserved forever home.
Profile
My teeth may be a little worn but I still have a great smile!
Rolling at the vet office
Feels good
Buck is the only dog that we know that likes to roll around at the vet office!
Hi you!
Waiting to see the vet
Buck and his foster mom
at a pet store meet and greet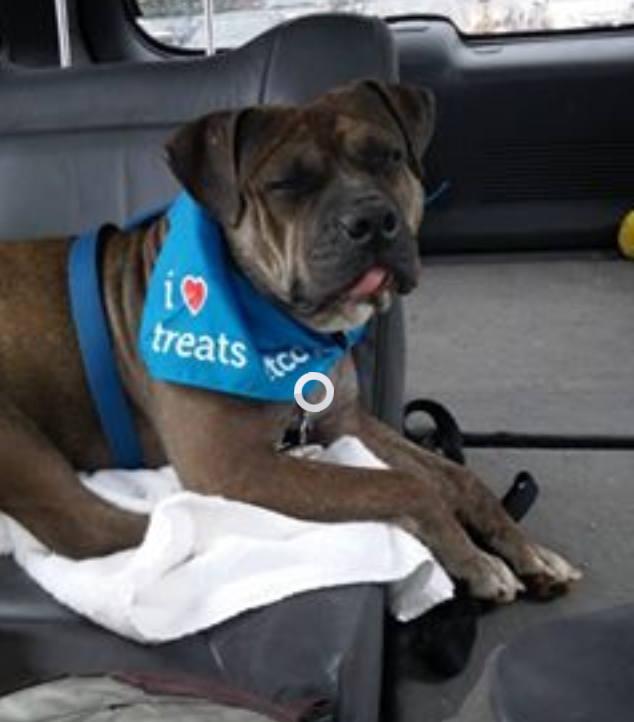 Tired boy
Buck is falling asleep on the ride home after his visit to the pet store meet and greet.